Catfish Rod Katusha Wels Stark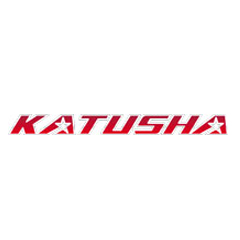 Recommended retail price : €124.10
Models & specificities
Descriptive
Reviews
Test du produit
A question
Besoin de formation
Reference
Price before tax
Sections
Transport length (cm)
Power (gr)
Length (cm)
Weight (g)
RRP*
Models & specificities
Descriptive
Reviews
Test du produit
A question
Besoin de formation
Catfish rod Wels Stark KATUSHA.

the rod inside wire Wels Kraft is a true "featherweight" vis-a-vis the giants! Indeed, it is a true treat to fight large catfishes with a rod in 80/200 grams. This product is intended in particular for fishings with the clonck whose animation and striking are done by hand. In this technique, the use of a rod inside wire avoids with the braid being rolled up around the rings! Blank [the KGB Karbon].

KATUSHA - For the continuation of "Catfish"
For several years, the company SERT created and developed a large number of products for the catfish fishing and knew to be established in a field where the weakness does not exist.
Therefore with a group of specialized fishermen, we decided to create a range except for whole under the name of KATUSHA, entirely dedicated to this fabulous - and sporting - fishing which is the catfish fishing.
Technology matter, all our products "Wels" were tested and approved in France and Spain and all are adapted to this fishing, without forgetting that the key word must remain "pleasure".


Models & specificities
Descriptive
Reviews
Test du produit
A question
Besoin de formation
Customer reviews
Customers rate us 3.83
/5
View all

2652

reviews
This site uses cookies: Cookies allow you (1) to browse the site due to functional cookies,
(2) to optimise your site experience through audience cookies and (3) to share on social networks. They also provide you with (4) editorial content and services as well as (5) advertisements, tailored to your browsing habits and your interests. (6) ContentSquare is a solution that aggregates traffic and usage data in order to improve the user experience. The statistics produced are anonymous. To be excluded from tracking, please click here. Click on "I understand" or continue browsing to accept these cookies. You can read our privacy policy and find out more about the management of your data and cookies by clicking on "find out more"
... Read more