Recommended retail price : €5.80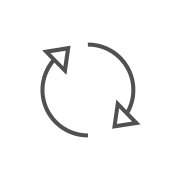 20 days for returns
Models & specificities

Descriptive
Hide
Display
unavailable items
The Cat Ball is without doubt the most effective way to build effective vertical rigs. The vertical head comprises a heavy lead covered with a rubber coating in glow-in-the-dark or matt black colours and has a round design with a flattened
underside. This allows the bait to be presented on the bottom without making a sound. Two stainless steel eyes protruding at 90-degree angles offer the perfect fixing points for the main line and the bait and enable rapid baiting as well
as extended bait presentation without tangling.
The Cat Ball is without doubt the most effective way to build effective vertical rigs. The vertical head comprises a heavy lead covered with a rubber coating in glow-in-the-dark or matt black colours and has a round design with a flattened
underside. This allows the bait to be presented on the bottom without making a sound. Two stainless steel eyes protruding at 90-degree angles offer the perfect fixing points for the main line and the bait and enable rapid baiting as well
as extended bait presentation without tangling.
Ce site utilise des cookies : Les cookies vous permettent (1) de naviguer sur le site grâce aux cookies fonctionnels,
(2) d'optimiser votre expérience du site grâce aux cookies d'audience et (3) le partage sur les réseaux sociaux. Ils vous apportent aussi (4) des contenus rédactionnels et des services ainsi que (5) des publicités, adaptés à votre navigation et vos centres d'intérêts. (6) ContentSquare est une solution qui agrège des données de fréquentation et d'usage dans le but d'améliorer l'expérience utilisateur. Les statistiques produites sont anonymes. Pour être exclu du suivi, veuillez cliquer ici. Cliquez sur « J'ai compris » ou poursuivez votre navigation pour accepter ces cookies. Vous pouvez consulter notre politique de confidentialité et en savoir davantage sur la gestion de vos données et des cookies en cliquant sur "en savoir plus"
... Lire la suite